Jeshua is a young man with Autism and a mild intellectual disability, however this has not stopped him pursuing his love of drama. Even difficulty with verbal communication couldn't hold him back, with performing has assisted his speech skills.
Jeshua's love of drama and acting started in primary school with school concerts and Wakakkri Competitions, however it was his role as the 'boy who cried wolf', where the flame really ignited.
In high school he performed in the school choir as well as with the Tutti Ensemble at the Adelaide Entertainment Centre a disability inclusive group as part of a special collaborative schools' performance.
Disability No Barrier for Drama Teacher
Jeshuas mother Annette, explained that in year 10 Jeshua discovered the lunch time drama club. The drama teacher had a rule of no watching and asked him to leave but he refused. Seeing, Jeshua had a disability, she decided to let him stay and watch. The next week he returned to the club and Jeshua could recall everything they had practiced. Seeing his talent, regardless of his disability, the teacher asked Jeshua to join the drama class. This teacher nurtured his talents looking at what he could do rather than what he couldn't, becoming her star pupil.
Jeshua enjoyed many performances with the club as well as taking on drama as a subject. In year 12 Jeshua had a lead role in his drama class performance, earning himself a non-modified A, which his former drama teacher notes as one of her teaching highlights.
Jeshua's love of theatre lead him to backstage work experience at Hopgood Theatre, as well as backstage crew for Stage25s 2012 Camp Rock and 2019 Venture Company's production of The Mister Misty Mystery.
Jeshua however loves to perform and is a highlight at Grow Church with each year performing at least one monolog at Christmas. The church congregation look forward to him performing and encourage him greatly. At church he is a valued member also serving on the host team welcoming everyone, the cleaning team as well as the data team. Annette told me being included gives Jeshua a since of value and he thoroughly enjoys it.
Jeshua is extremely busy following his passion of drama and is a member of No Strings Attached theatre company one of South Australia's premier disability drama company. Jeshua also performed with the Phoenix Variety and Music Group where he performed in their last production of Robin Hood as Alan A Dale, Clein Tell and King Richard.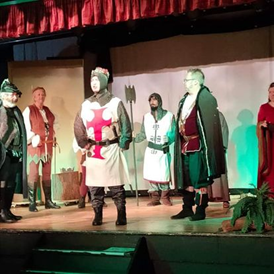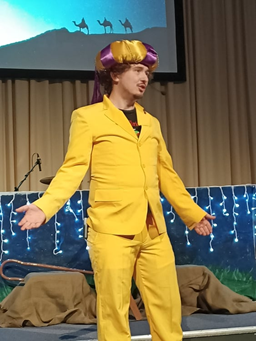 Jeshua is currently rehearsing for end of year productions and has a lead role in one of them.
Assured Home Care has Support Workers available to assist you with social and community participation. To book a support worker call 08 8374 2444 or email enquiries@assuredhomecare.com.au or visit our contact page.