Tutti Arts is proving every day that having a disability is no barrier to artistic achievement!
The Tutti Choir was a highlight at our recent 10 Year Anniversary event at the Zoo, delighting the crowd with an inspiring performance of original songs and well-known hits designed to get everyone's vocals humming.
This month, we had the good fortune to join the Wednesday Afternoon Music group (or WAM), one of many weekly Tutti group programs, which has a focus on music theory, song writing and performance skills.
We discovered a diverse group of musicians with reach, influence and acclaim.
Check out our video of Tutti in action!
Tutti means 'everyone', and Tutti Arts aim is "to break down barriers, challenge preconceptions and boldly place disabled artists centre stage."
In short, "We're aiming to take our artists and their work to the world!" says Choir Director and Music Program Coordinator, Carol Young.
From early origins as a once weekly recreational program, Tutti now operates six days a week and is recognised as a highly-awarded, multi-arts organisation delivering programs across four locations (Brighton, Port Adelaide, Barossa, Adelaide Hills) to over 200 participants with an intellectual or learning disability.
Tutti enables individuals to express creativity across different art forms, offering programs in Performing & Visual Arts, Film & New Media, Singing & Music, and providing opportunities for cross-collaboration.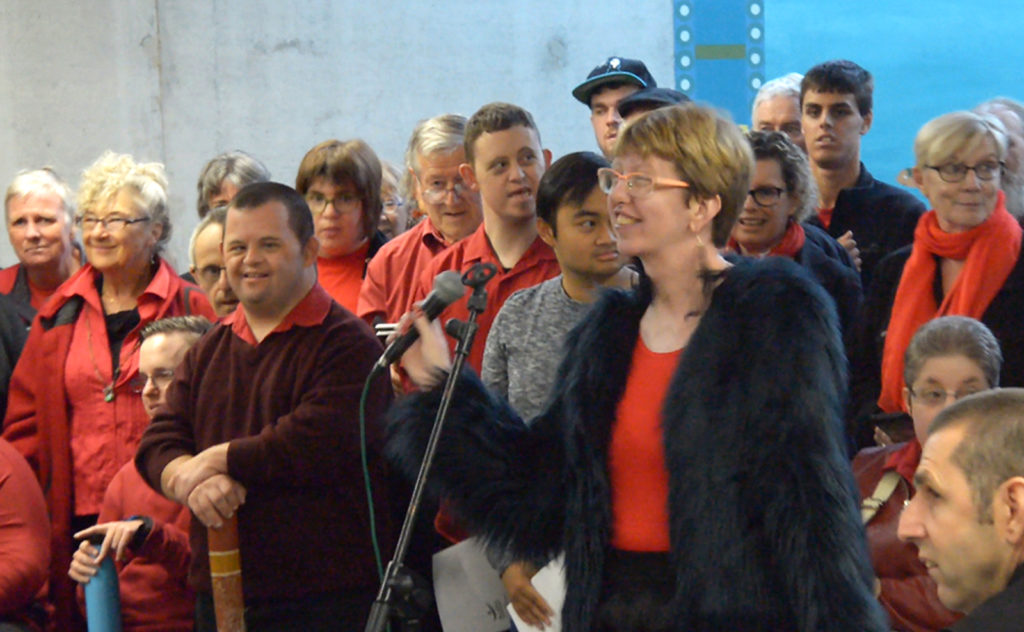 Midweek rehearsal at Tutti
WAM members Sam, Jessica, Caitie, Trisha and Dougie were all part of the recent anniversary Zoo performance and loved the opportunity to perform in front of a big audience.
Dougie, in particular, was thrilled to perform one of his favourite John Farnham songs ('The Voice') and enthusiastically encouraged the crowd to sing along.
Whilst Tutti's main musical performance groups include the Tutti Choir, Poco (or little) Tutti Choir and the highly acclaimed alt-pop group, The Sisters of Invention, all programs have a performance outcome.
As well as numerous private performances (including Assured's own 10-year anniversary event), Tutti artists have performed in Adelaide at the Fringe, WOMADelaide, OzAsia Festival, Carols by Candlelight and nation music festivals in Victoria, Western Australia and the Northern Territory, as well as international performances (North America and Canada).
The Sisters of Invention even featured in ABC's iView series Pop-Ability, an award-winning six-part series that looks at these young women's journey launching an album and video, from rehearsals to filming and an intimate slice of the lives of individuals within the group. More recently, the group featured on ABC's Get Krack!n program.
WAM member and star of The Sisters of Invention, Aimee, says that for her, performing is like therapy.
"If I do it, I feel better afterwards."
Choir member Kathryn would agree.
"I feel really excited when I'm performing," she says.
The group agrees that singing together, practice and preparation helps to overcome any stage nerves.
"We've become great friends over the years and we've had a lot of fun practicing and performing together."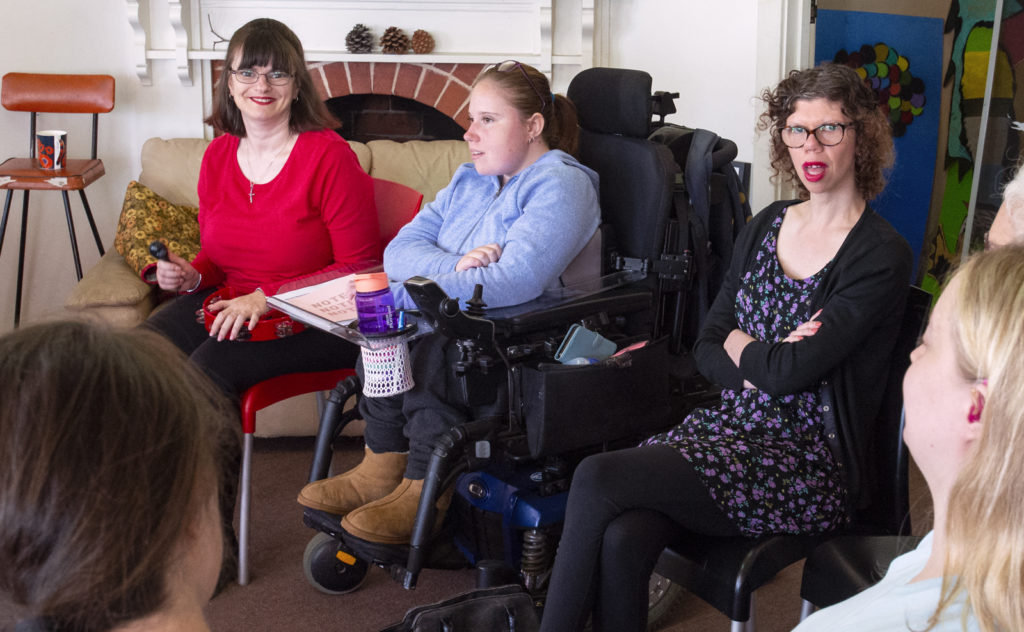 "Don't dis-my-abilities"
Sitting down with WAM participants during rehearsal was an opportunity to discuss what music and Tutti Arts means to them.
Many WAM members emphasised the importance of avoiding labelling people with a disability. And, how important it is that people see different role models.
"It's important to see the good in things, to get rid of negativity around disability, and put positivity in the light," says Amy.
"We are actually people with diff-abilities," says Caitie.
No, not people with a lisp, "but people of different-abilities."
The group agrees that it's important to be yourself; and Tutti Arts provides the support and encouragement to foster individual expression.
"No one is perfect," says Jo, and as one choir member puts it even more bluntly,
"Don't dis-my-abilities."
Sometimes, having a disability can even bring good fortune as 'wheelie' Michelle discovered; she was one of the lucky few who had the opportunity to meet Katy Perry on tour at a shopping mall promotion.
Priority access means that sometimes, "being in a wheelchair has its benefits," she admits.
All WAM members share a love of music and enjoy performing songs from Oz rock classics to Peter Coombe (a shared favourite) and everything in between.
The group enthusiastically nominate their musical heroes, citing popular artists including Katy Perry, Taylor Swift, Adele, Harry Styles, Ronan Keating and Zac Efron as being their influences.
Aimee, however, is more artistically drawn to musical theatre.
"At the moment, I'm waking up each morning to SpongeBob SquarePants, the musical, which I'm finding inspiring!"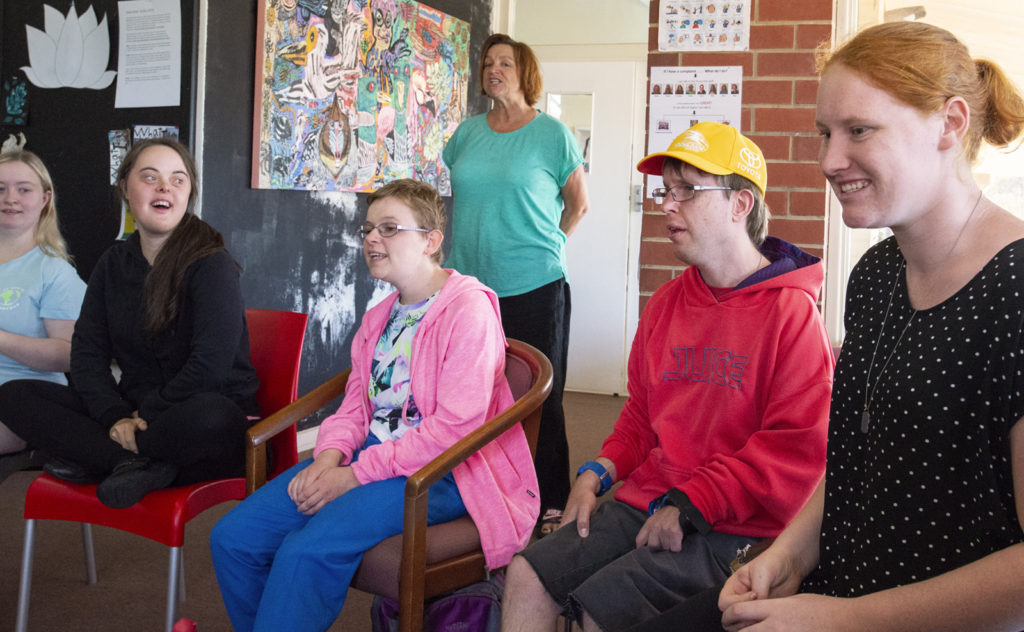 Passionate musical leadership
Tutti's multi-talented and energetic Choir Director & Music Program Coordinator, Carol Young, has been working with the group for around two years.
Carol has worked as a musical director for over 20 years, for the most part with the Adelaide College of the Arts (TAFESA), as well as several freelance appointments, including for the State Theatre Company SA. She has worked with many community choir groups, including her own group, 'La La Land', that has performed at the Adelaide Cabaret Festival and Fringe.
The passion Carol has for Tutti and what it is achieving is evident, not just in how she talks about the group but simply by watching her at work.
"I'm really comfortable with group singing where the group itself has a wide range of abilities, which is the reality for a lot of community choirs ."
"One of the things that I've learnt in working with Tutti artists is that participating is the most important thing."
"The spontaneity of Tutti artists is a reminder of why we all love to do what we do, and why we love music so much."
Tutti seems to attract people with passion and dedication; leading the rehearsal is Matt Morison, who has been working with Tutti for two years now and takes the Quirkestra instrumental group program.
Largely experimental and improvised, the group has lately been focusing on learning form and "sticking to a form," according to Matt.
Tutti's reach and influence
While talking with WAM members, it's evident that Tutti's focus is on supporting musical exploration, and both personal and professional development.
According to Carol, "Our aim is to support individuals to become artists in themselves, with the long term aim of achieving a professional practice."
"Tutti's vision is to take the work of disabled artists to the world!'
Many program participants are achieving recognition and influence in the broader Adelaide arts community, while some are now performing and exhibiting work overseas.
"We have many talented musicians in our crew, with artists playing guitars, violins and drums; percussion instruments including tambourine and maracas; keyboards and slide whistle, and even a didgeridoo player," says Matt.
"With Quirkestra, we are hoping to gain some future commissions and do a soundtrack to theatre performances," he says.
Many WAM members have found their own niche in music and performance.
As well as performing with the The Sisters of Invention (who have a new album out soon featuring their own song writing), Aimee is now teaching music herself to students.
Caitie, who identifies as having 'up'-syndrome, has been learning AUSLAN for many years and often provides interpretative services for Tutti performances, and others.
And MC Dougie is the popular star of Dougie's World, a regular segment on ABC891 Radio on Tuesday nights with presenter Peter Goers.
Fame aside, everyone is enjoying being in the moment at rehearsals, as the group moves from the gentle sounds of 'In the Jungle', to the higher energy vocals of 'Buttercup (Don't Break my Heart)' spontaneously accompanied by Trisha on maracas, and with Aimee harmonising.
For now, the world can wait!
Further Information
Tutti Arts is a registered NDIS provider.
To find out more about Tutti programs, visit http://tutti.org.au/
More handles than you can poke a stick at:
Facebook
@TuttiInc
@TuttiVisualArtsStudio
@TheSistersOfInvention
@SitDownShutupAndWatch
@SocialCueTheatre (Company AT)
Instagram
@TuttiArts
@TuttiVisualArtsStudio
YouTube
Tutti Arts Inc
The Sisters of Invention
Sit Down Shutup and Watch
Twitter
@Tutti_Arts