Sarah McCarthy, or 'Sarah the Carer' as she is better known by those who have had the good fortune to enjoy her compassion and care, loves her work and has always found it deeply satisfying.
She recently received the biggest reward of all, however, when long-term client Owen spoke to her clearly for the very first time.
Sarah has been working with Owen for the last 6-7 years; assisting his daily care needs, attending the odd outing here and there and providing occasional respite for the family.
Owen (22) has Spastic Quadriplegia Cerebral Palsy and is mostly non-verbal. Growing up, he attended a special disability program at Hamilton Secondary School (FLATO unit) and now enjoys day options with SCOSA, Monday to Friday, where activities range from cooking and gardening, to fitness and dance and art and craft. Sarah provides personal care support to Owen in the afternoon when he arrives at home.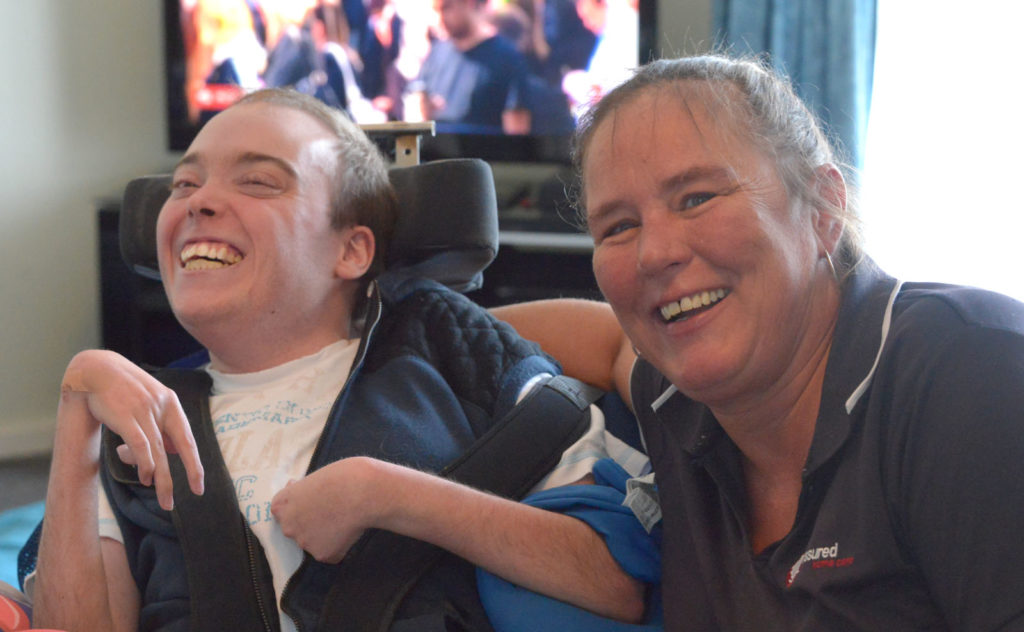 A special bond
Over the years, Sarah has developed a strong bond with Owen (or 'Owen MacGowen' as she has nicknamed him), and with Owen's entire family.
"We are very lucky. Sarah is a person that we get along with well, and trust," says Owen's mother, Carol.
"Sarah is particularly attuned to Owen's mood and behaviour," she continues.
"He also has some special needs, particularly when it comes to feeding (administered through peg feeding) but Sarah has had training from Assured Home Care in how to manage this."
"We feel that it is possible for us to leave Owen in Sarah's capable hands knowing that he will be well looked after," says Carol.
"She's almost like one of the family 🙂 "
Laughter and joy
Every afternoon, Owen waits in his chair at the window for Sarah to come for her shift. As soon as he sees her coming up the driveway, he gets very excited and starts making noises.
Owen loves seeing Sarah because she makes him laugh.
"We have a lot of fun together," says Sarah.
"His Dad, David, puts on some 80's music and we sing and dance along."
"Owen thinks it's hilarious."
During a recent shift, Sarah received her biggest reward of all.

After dancing around and making Owen laugh hysterically, Sarah was just about to put him into his sling when Owen looked up and clearly said,

'Thank you, Sarah'.
Sarah was so surprised and overwhelmed that she had tears in her eyes.
"Whilst Owen will often vocalise and make out the occasional word, he has never spoken to me so directly before," she says.
"It's been the highlight of my career so far!'
Through the good and the bad
Life doesn't always go smoothly, however.
Owen recently had a health scare, coming down with pneumonia and having to go into emergency care in hospital.
In her own time, Sarah went to visit Owen in the hospital.
"I was really frightened for him," she says.
When he saw Sarah, Owen's eyes lit up and he started smiling and making excited noises.
"It made me feel so special", says Sarah.

"Like, Wow!" she laughs.
Although, she then found it very hard to leave him as she could see how sad he was.
"His face made this perfect sad emoji face," she says.
"I really felt for him, and fortunately he recovered well."
Wouldn't change a thing
Sarah has been working with Assured Home Care since the company began, "as [employee] No. 38" she laughs.
Whilst Sarah is the first to confess that domestic duties are not her greatest interest, the personal bond and one-to-one relationship that she forms with her clients certainly is.
As a big part of Owen's adult life, Sarah has got to know him deeply.
"I think Owen is a lovely, smart and kind man," says Sarah.
"And, I believe he understands a lot more than people would think."
Sarah continues to feel valued and appreciated for the work that she does with Owen, and others.
"I love my job", says Sarah.
"I couldn't imagine doing anything else."