Assured Home Care's supported accommodation units, located in the North -eastern suburbs, provide a model for the delivery of services that aim to develop a sense of community for people living with disability and their direct support team.
Over the last 12 months, our dedicated care team have worked hard to improve the lives of residents within the group, not only through supporting their day-to-day needs but in providing opportunities to pursue their interests, to develop social skills, to interact with others and share in a sense of community.
The units are home to five residents, each with varying levels of independence and care needs. Despite being in such close proximity to each other, many of the residents and members of the support team had never actually met each other until recently.
"While we do hear about others within the group, their personalities and interests", says support coordinator Chrish, "we do tend to work directly with individual clients within the group".
And, similarly, whilst support worker Deb was comfortable that there was always someone to call upon for help, "I didn't know all of the clients and carers personally."
Building community.
That all changed when Assured Home Care recently organised a casual BBQ dinner at the units for the residents, their direct carers and support coordinators.
The event was an experimental endeavour designed to build camaraderie within the group and to help develop a sense of community for support workers and residents alike.
Organisation of the BBQ was a joint effort by support coordinators, Naomi, Chrish and Rebecca. With the assistance of regular support workers, the coordination team organised food and activities on the night for the 5 residents.
"Naturally, there was some concern that the mix of disabilities might limit interaction or that some clients and carers might stick together and not mingle", says support coordinator, Naomi.
"But, overall, it went way better than expected", she laughs.
"People got to know each other, put faces to names and see some of amazing talents that our clients have," she says.
"Talents such as completing multiple jigsaw puzzles simultaneously, reciting football scores and weather reports going back to the early 90'…. and shooting hoops," she says.
"Two of the residents who are both in their 20's love basketball and ended up playing together the entire time."
"This was great to see, as one of them is fairly independent, has his own friends and likes to do his own thing… so everyone was pleasantly surprised that he stayed for the whole BBQ."
"The outcomes were very positive and everyone has agreed that they would like to hold another group event at Christmas time – this time inviting the client's families as well."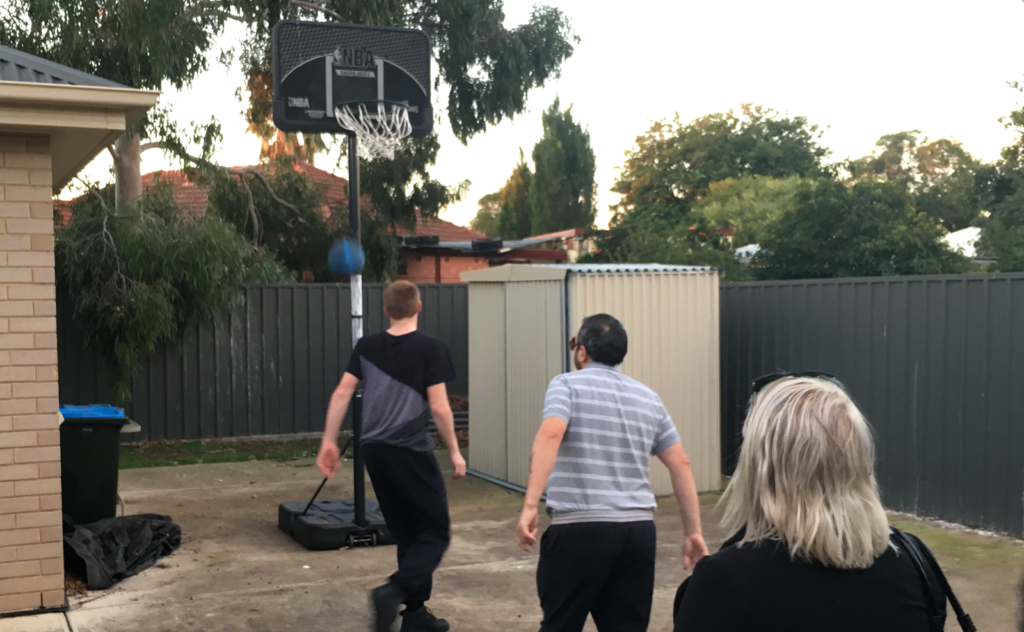 Small steps.
Support worker Deb had already been working hard to create opportunities for resident interaction.
Deb works regularly with three clients at the units, including permanent residents Luke and Adam*.
For some time now, Deb has been fostering socialisation between the two.
"We decided that it would be nice for Adam and Luke to have dinner together every Tuesday, with support workers alternating preparation and hosting each week, sharing the work load and creating a small social environment," she says.
By chance, Deb also discovered their mutual enjoyment of bowling.
"We've got them playing their first season together in the local Strikers League, a competition specifically for people with a disability" she says.
"We had the end of season awards ceremony this weekend, and Adam and Luke placed 7th out of 8," she continues proudly.
"Maybe next season they could be 4th."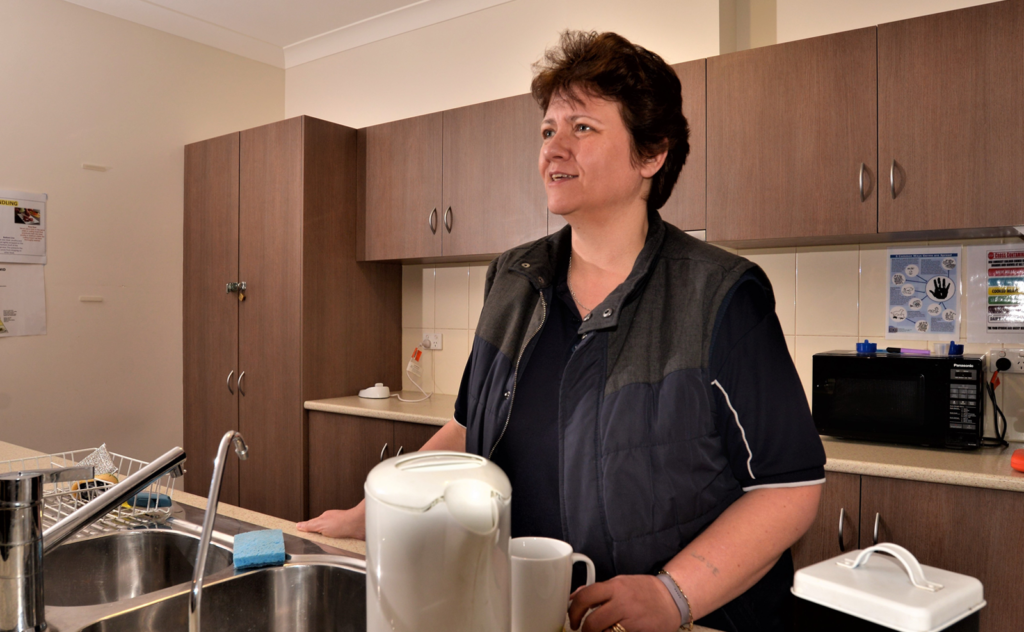 Positive outcomes.
Having worked with both Adam and Luke for some time, Deb can see the benefits that shared activities can bring.
"I think it's just so important to make sure that our clients not only have a quality of life doing everyday tasks, but are also able to enjoy socialising with others and recreational activities," she says.
A sentiment echoed by our team of Support Coordinators.
"Providing these opportunities for interaction, and seeing the benefits – not just for our residents, but our care team – is so rewarding," says Naomi.
"We have an outstanding care team who are passionate, hardworking, and reliable, and who will drop everything and go outside of the norm to look at other ways to help their clients."
"With this spirit, we will continue to look at new ways to incorporate fun activities and to build a supportive community within the group," she says.