David is a shining example of a dedicated support worker who consistently goes the extra mile!
David has been working with Luke for the last 18 months; assisting his daily care needs, and working to improve his life experience through extending his passion for music.
Luke is severely autistic and lacks the ability to communicate; exhibits repetitive and ritualised behaviours, "and is rigorous around routines, cleanliness and ensuring that everything is in its right place," says David.
Diagnosed at 3, Luke attended a normal kindergarten when he was young, before receiving more direct support at a special autism school (in Myrtle Bank), and later supported schools in the State.
"Up until this time, Luke has been living at home with periods of respite," says his mother, Felicity.
"But, as I approach 70, I needed to be comfortable with having additional support and in-home care for Luke".
Now 44, Luke lives in one of Assured Home Care's supported accommodation facilities, where he receives 24/7 care, participating in regular day option programs through Xlent Disability Services and with full time care provided in the home.
An early fascination with music
From a young age, Luke has shown an intense interest in music.
Felicity used to play her favourite records – Roy Orbison, The Beatles, The Eagles – and see the powerful effect that it had on Luke growing up.
"He would be intrigued by the sounds," she says, 'although we did have to be careful that the odd record wasn't scratched by his over-enthusiastic handling!"
Understanding Luke's deep love for music, and describing himself as a 'frustrated musician', David has been trying to incorporate music into his daily routine to broaden his sensory exposure.
"Luke loves music," says David.

"It's such a wonderful thing to see."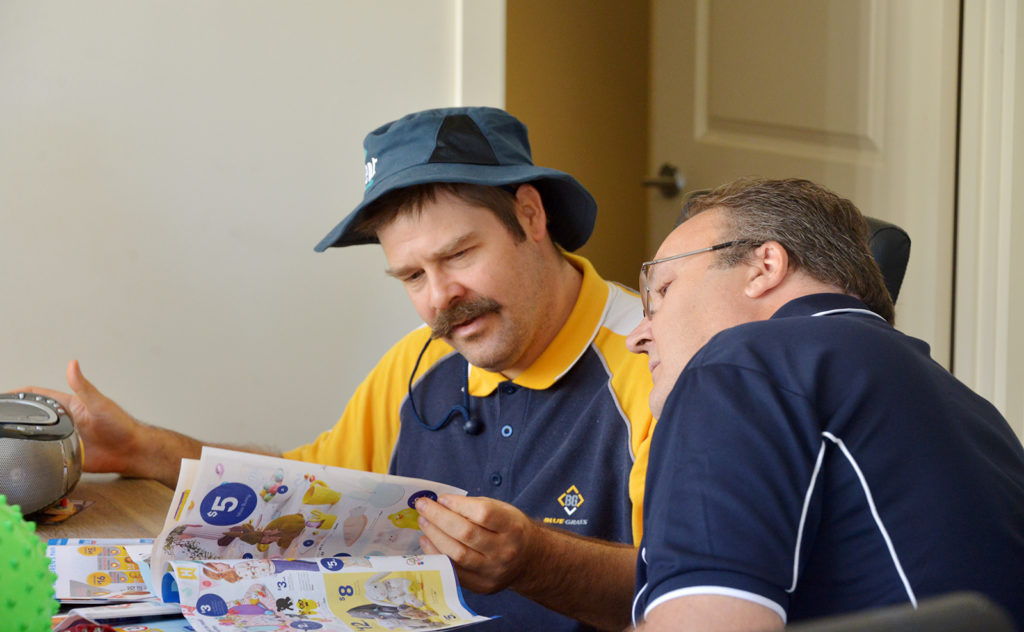 When they first met, Luke would listen over and over to the same song (I Believe by Don Williams), all day, every day. David has expanded Luke's horizons through slowly introducing his own music and CDs, playing instruments, dancing and making up songs.
"He laughs when I make up songs, and sing along," he says.

"I would laugh at my singing too, it's terrible."
David has observed the effect that music has had on Luke's emotional wellbeing, confidence, concentration, and memory. It has helped in moderating behaviours to assist day-to day activities such as going to bed, and shaving.
"Luke doesn't like being shaved," says David.
"But, I have made up a song called 'Shaving Lukey' (to the tune of 'Shake your Booty') and he now smiles and giggles as I'm shaving."
Since David has come along, Luke's mum, Felicity, has been impressed by the changes that she has seen in her son.
"He is so much calmer and happier and shows none of the self-harming behaviours that he did previously," she says.
As an example of this, as a diabetic, Luke requires at least 3 BGL (Blood Glucose Level) tests and an injection of insulin every morning, and daily oral medication.
"He would never let me do his BGL checks, and would frequently run away," says Felicity.
"Now he just holds out his hand."
Nothing more rewarding
David previously worked in manufacturing and engineering for many years before a downturn in the economy saw him made redundant, a situation that he now sees as a blessing.
"It forced me to look at retraining options, and this is where I first looked at disability care," he says.
"It's such a rewarding job that I now wish I'd started 20 years ago," he continues.
"As well as the rewards of helping people like Luke, I find that I get so much support from our Support Coordinators at Assured that it makes my job much easier."
"All of the Support Workers at Assured that provide support to Luke have been amazing, it's a real team effort," he says.
"I've learnt so much from the experiences that they have shared with me, and particularly from Luke's other main Support Worker, Deb."
David recently supported Luke's NDIS Plan, providing a report that detailed the benefits that music had contributed to his day-to day living; and his desire to continue to explore Luke's passion, and to develop his skills.
"Music is a very large part of Luke's life," says David.
"And, it is such a satisfying feeling to see him enjoy music so much."